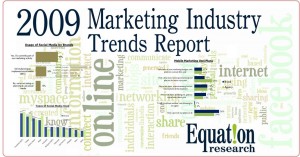 I blogged about the Equation Research community research effort a few posts back. Well, the report has finally been released!
Which is a relief. I've been helping Equation Research with the release and content of this report since inception and it's been an interesting exercise.
To refresh, the premise behind the idea was to engage a top Social Media blogger (CK) and use the blog community (consisting mainly of Marketers and Social Media specialists) to generate questions they would like to ask other Marketers. The original post is here.
We got a great response, generated some interesting questions, and subsequently fielded and produced the report with a new post announcing it here.
While the report itself was interesting and has gone on to be quoted in many places – there is a good write up of the results on the Social-Smart blog – the real lesson was in the strategy used to create it.
As CK mentioned in her post announcing the results:
While we'll learn through the report's findings, I do want to point out the key lesson that I'll be sharing with my clients and colleagues—because ironically, it doesn't stem from data found inside the report, but from the core idea of the report itself. That is to say, creating a piece that was both for the community and directed by its members. Given social media's growth tear, I hope businesses will leverage these tools in ways that engage audiences by providing new and creative types of value to their communities…rather than using these media as just another vehicle for broadcasting their marketing messages.
I couldn't have said it better myself.
Equation Research is already leveraging its association with the report and the strategy. It's a great win-win where the community gets relevant insight from their collective effort, and Equation gets both brand awareness and a new sales tool.
And I can say from personal experience (having helped write a large chunk of the report – therefore the errors are mine

)  that producing this wasn't a gargantuan effort. The investment and the return (while not fully realized yet) seem to be well balanced.
The key to this type of approach is that you have to stop thinking of a web community in terms of 'eyeballs' and 'reach', and start thinking of reciprocal exchanges of value. If you don't have anything of value to exchange, chances are you shouldn't be there.
I'll come back to update this in a few weeks time to see if the report has gained any significant traction.